League Updates:

Our Town League Scorekeepers - Thank You for a great season!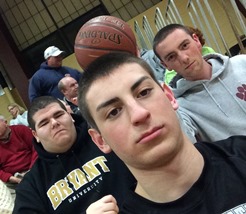 Leighton Division:  Derek Carvalho & Henry McDonald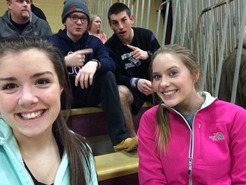 Division II: Joe McDonald & Kevin LyonsHennelly Division:   Marie Harrison & Colleen Perry
2014-2015 Division II MVP - Jack Jamieson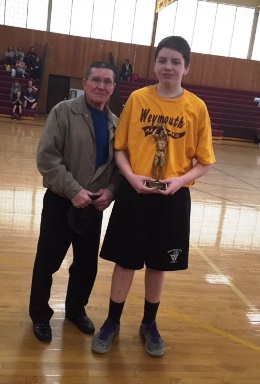 Mr. Farrar awarding the Andrew Farrar Jr. MVP trophy to Jack. 



To register for our Town League programs: 
Email



**GET READY FOR WJBL 2015-2016!!! ** 


Preparations are underway for the new season, and will be posted here in early September.    

Championship Sunday �¢?? Game Highlights (updated 3/17/15)
Hennelly Division (Grades 4 & 5)
South Shore Bank and Jimmy�¢??s Diner battled it out this Sunday to take home a championship win. All players on both teams contributed equally to put their best effort forth and win. This game was exhilarating and kept everyone on the edge of their seat. Ending with a final score of 27 �¢?? 22, South Shore Bank was this year�¢??s victors. Andrew Thomas showed his motivation to win and pushed himself, automatically pushing his teammates to do better. Timmy Knapp puts in his best effort and is a team player, very unselfish. For Jimmy�¢??s Diner, Sean Murphy gave everything he had. He always put everything he has into every game he plays. Mike Ritz was diving left and right for loose balls, playing very aggressive. Both teams had a great season and finished off strong. 

Zack Delgosso and Daniel Cromp played outstanding in the all-star game and put in exceptional effort the whole game. Alex Pineiro has been very consistent all season and continued to run up court 10 times a game for his infamous breakaway layup. Andrew Donahue also contributed with a great positive attitude and high energy. The all-star game was exciting and each player put great effort and hustle in. 
 Division II (Grades 6 & 7)
The Divison 2 championship was a great battle between the league�¢??s top seeds: South Shore Sports Therapy and Rockland Federal Credit Union.  Rockland Federal got the win 34-16 to become this year�¢??s Division 2 champions.  In a great physical battle, they pounded the ball down low to Ben Randolph (12 points, 8 rebounds) and teammate Jack Jamieson, who scored 13 off drives and 3-point shooting.  Jack Donahue and Jake Eugren (5 blocks) also wrapped up great seasons in the win.  For South Shore, the offense was unable to penetrate at times.  Nic Tardinco played hard for his squad and controlled the rock alongside Matteo Spadea�¢??s crisp assists and creative takes to the basket.  Ayden Doyle and Ryan St. Clair played until the final buzzer for South Shore.

The D2 All Star Game was a battle through the final period, with the Maroon Team winning 44-38. The Gold Team, coached by Coach McDonald in place of Coach Jamieson, led most of the game thanks to impressive offensive efforts from Benny Randolph and Nathan Hraibe. Mary Kate Falco's defense also contributed to the Gold Team's lead. However, due to crucial points from Peter Crisileo in the 6th period and Mike Hastings in the 7th, the Maroon Team--coached by Coach Fulton in place of Coach St. Clair--gained a lead and could not be caught. It's been a great season and the league looks forward to next year. 
 Leighton Division (Grades 8 & 9)
Weymouth Bank and Weymouth Police faced off in the JBL Championship Game.  Weymouth Bank fought hard to be crowned JBL champions, winning the game by a score of 38 to 35.  Justin Albee and Kevin McGrath combined for 32 of Weymouth Bank�¢??s points to finish the season as the JBL�¢??s best.  Weymouth Police played extremely well for the entire game, receiving great efforts from Cam Mason and Vinny Brown.  The duo combined for 24 points, leading the team�¢??s tremendous efforts the whole game.  Congratulations to both teams on incredible seasons.
 The Division I All-Star Game between Gold, led by Coach Kevin Howes, and Maroon, led by Coach Steve Craig, was incredibly high-paced and entertaining.  Gold pulled out a 58 to 55 victory behind a great performance from Troy Salmans, who led the team with 21 points and 11 rebounds.  Maroon had an incredible three-point attack, led by Amandee Weaber who scored 9 of his 13 points from beyond the arc.  Congratulations to all of the All-Stars and good luck next year.

2014-2015 Instructional League
(Updated 12/4/14)  
Just a reminder that the Instructional League will be held on Saturday mornings at The University Sports Complex (The U) in Hanover.  The first session will be held Saturday December 6th and run through February 14th.  

Sessions will be held:
Grade 1:  9:00 - 10:00AM
Grade 2:  10:00 - 11:00AM
Grade 3:  11:00 - 12:00PM

Players should wear sneakers and bring a drink to each session.  Players will be assigned to teams, and will be issued a team t-shirt.  
Should you have any questions or comments, please contact weymouthjbl@yahoo.com.

Town League Updates
Teams have been created in all Town League divisions grades 4-9.  Coaches are now contacting players with team information and schedules.  The season starts for all divisions the week of 12/1. If you have not heard from a coach, please contact the appropriate division coordinater below:

Hennelly Division (Grades 4 & 5): EJ Nordstrom (ejnordstrom@weymouthjbl.com)
Division II (Grades 6 & 7): John Jamieson (jamieson@weymouthjbl.com)
Leighton Division (Grades 8 & 9): Sean Sullivan (sean@weymouthjbl.com)


All players must register online for the 2014-2015 season. If you would like to pay by cash/check you must still register online and select the payment method of your choice.  For those paying by cash/check we will have an in-person payment collection session on Saturday October 11, 2014, at the Weymouth Elks from 12:30PM to 2:00PM. The Town League is open to Weymouth residents only, and the program is for players of all abilities for grades 1-12.


The second family member registered will receive a 20% discount (code JBL2), and each additional family member registered will receive 30% discounts (JBL3).  All registrations with payments received either in-person or online by 10/11/14 will be guaranteed placement on a team.  Mailed in registrations and/or payments will not be accepted. 


Team Assignment: The WJBL attempts to make each team in the Town League competitive within their division.  To assist us, ALL players signing up for the Hennelly Division, any new players to Division II and any new players to the Leighton Division will be assigned an evaluation date and time.  WJBL will email the evaluation date and times after 10/11/14.  Usually all players are assigned to a team, but WJBL reserves the right to limit the number of players due to available gym time. 


Season runs from mid/late November through March.
2014-2015 Travel Basketball Tryouts
The travel program provides for two travel teams in each grade from grades 4 through 8. This is a competitive program for the top players in each grade. The travel program is open to Weymouth residents only. Participation in last year�¢??s travel program does not guarantee a spot on this year�¢??s travel teams. There will be one �¢??A�¢?? team and one �¢??B�¢?? team for each grade. Players for each team will be selected by a travel committee designated by the JBL Board of Directors.


All travel tryouts will be held at the Chapman Middle School.  Players are asked to be at each tryout 15 minutes before each session. Players must register for travel tryouts online at weymouthjbl.com.


The fee for players making the grades 4 and 5 teams is $220 and for players making the grades 6 through 8 teams is $250.  Teams will be selected and announced by 10/13/14.  For players making a team, payment will be due prior to the first practice.